It is the middle of March which means that a bunch of library geeks will descend on Crystal City, Virgina next month for Computers in Libraries 2008. The conference is trying some new things this year and I'm excited to be a part of some of them.
Helene Blowers suggested that a Pecha Kucha presentation be held. Six of us will have 20 slides and 20 seconds each slide to make a point. I'm moderating the track that this is in which means I get to cut people off mid-sentence during this session. Fun! [Tuesday, Track C, 4pm]
Jenny Levine and I have been doing gaming workshops at the past couple IL and CIL conferences with some informal open gaming afterwards. It has morphed into a Sunday night event: the Gaming & Gadgets Petting Zoo. I need to start practicing being a Guitar Hero.
I'm facilitating a postconference workshop with some top notch library thinkers.
Helene Blowers, John Blyberg, Sarah Houghton-Jan and David Lee King will be giving short presentations followed by conversation and brainstorming. It should result in some great potential projects!
Tuesday morning's keynote will be given by Erik Boekesteijn and Jaap van de Geer from the Delft Public Library. Their presentation at Internet Librarian last year might be my favorite conference moment of 2007. This should be just as good! They'll share stories from their 2007 tour of U.S. libraries.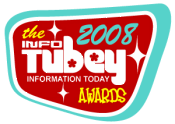 Tuesday night is the Second Annual InfoTubey Awards for outstanding library marketing on YouTube.
Hurrah for learning!